Sindhu Restaurant Marlow
SINDHU RESTAURANT IN THE HEART OF MARLOW BY MICHELIN STAR CHEF ATUL KOCHHAR.
SINDHU RESTAURANT IN THE HEART OF MARLOW BY MICHELIN STAR CHEF ATUL KOCHHAR.
Sindhu showcases the charm of traditional Indian cooking with Atul Kochhar's inventive modern touches.
Buy a Gift Card on the Sindhu shop website and invite friends or family to make their own gastronomical discovery at the Atul Kochhar Restaurant Group.
Gastronomic Dining Marlow
---
Sindhu restaurant showcases Atul Kochhar's passion for sophisticated Southern Indian cuisine.
At The Compleat Angler with breathtaking views across the Thames in Marlow, Sindhu is the Southern Indian restaurant from chef entrepreneur Atul Kochhar.
The approach to dining at Sindhu is simple; first-class, friendly and full of flavour. With a menu inspired by Chef's passion for authentic cuisine, every dish champions quality produce, with many vegan and vegetarian options. In a beautifully designed restaurant inspired by the rivers of India with plush furniture and vibrant canvases, the comfortable space provides a warm welcome for friends, families, couples and groups. Sindhu invites guests to enjoy the best in sophisticated gastronomic Southern Indian cuisine.
Sindhu pays homage to Atul Kochhar's love of traditional Southern Indian cuisine and exploring innovative and modern British touches. Explore this special fusion's incredible aromas, flavours and textures:
Atul Kochhar
---
Atul Kochhar is the pioneering Indian chef whose talents have seen him awarded two Michelin Stars.
He was the first ever Indian chef to receive a Michelin Star – in 2001. At the forefront of the culinary industry for over 25 years, Atul is a television personality, book author and charity ambassador as well as an admired restaurateur.
Atul Kochhar's gastronomical creations are showcased in many brilliant recipe books. These are some of Chef's signature dishes that use the best of British produce in a modern Indian style.
Atul Kochhar understands that quality, ethically sourced and finely preserved ingredients create the most fantastic food. At Sindhu, Chef sources the best of Southern India – from distinctive Mangalorean spices to the authentic elements for the fiery meats of Kerala.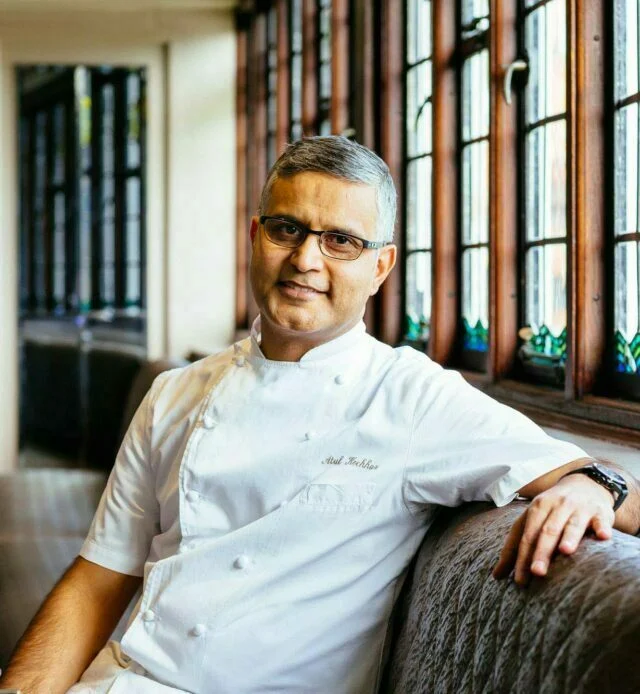 Marlow Restaurants
---
At Sindhu we understand what makes an event extra special; fantastic atmosphere, stunning scenery and wonderful cuisine.
The menus at Sindhu are inspired by Atul Kochhar's love of traditional Indian cuisine, brought to life by his continuous research into ever-evolving regional dishes, combined with his dedication to using the finest British ingredients. The result is a totally unique and innovative style of modern Indian cuisine.